One thing that makes Kinderflute unique is that children learn on real flutes from the start. This will help children learn the flute seamlessly, without the need to transition from a recorder or fife.
It is recommended that children start off on a flute with a curved head joint, which makes playing the flute with small arms much easier! Flutes can be rented very affordably from Long and McQuade.

Alternatively, you may consider a colourful JFlute from Nuvo Flutes. They are also affordable and relatively indestructible. Children also love the fun colours Nuvo Flutes come in!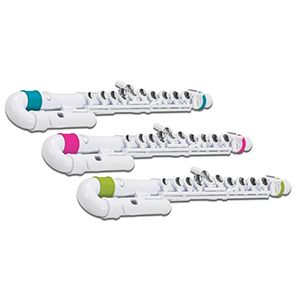 As we learn basic piano skills in Kinderflute, it is recommended that children have a keyboard to practise on at home. A small electric keyboard works perfectly well and may be easily sourced second-hand.